Send Out Cards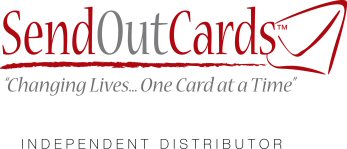 With over 15,000 cards to choose from, or you can upload your own photos and create your own, SendOutCards takes the stress out of buying and sending cards and gifts.
About SendOutCards:
A concept and service that is changing people's lives.
You can send a printed greeting card with your message in less than 60 seconds.
Choose your card
Write your message
Click send
SendOutCards prints it, stuffs it and mails it, all for less than a greeting card at the store.
Why SendOutCards does it:
When was the last time you sent an unexpected card at an unexpected time to someone you care about?
Do you think it would make a difference?
Do you remember people's birthdays and other special occasions? Do you think that matters to them?
How about a simple thank you or expression of appreciation. Do you think that would make a difference?
With this incredible tool, not only can you remember people and share appreciation, you can motivate, uplift, encourage and truly make a difference. Here is the interesting thing, the more you do this, the more you realize that you, the sender of these cards, benefit the most.
We are changing people's lives for good one simple card at a time.
Options & Features:
Choose from a retail, wholesale, or distributor membership account. Or, if you only send a few cards each year go with the SOCBox.
Custom Cards
Personal Handwriting Font
Picture Plus
Send gifts with your greeting cards - books, magazines, gift baskets, gourmet food, jewelry, gift cards and more.
Online Contact Manager
Calendar and Reminders
Try it out:
Send a greeting card today on me. Go to www.sendoutcards.com/58323 and click the banner at the top of the page.
Questions:
Call 360-263-1306 or email michelle@healandrelax.com. I'm happy to help you save time and money staying in touch with your family, friends, and clients.