Prenatal Massage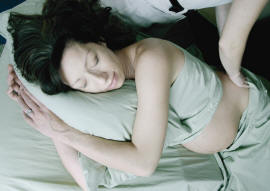 Massage during pregnancy not only makes a woman feel pampered, but offers undeniable physical benefits as well. Massage can relieve fatigue, enhance sleep, and calm an active baby.
During the entire term of pregnancy, massage can stimulate blood flow, which may assist in the prevention of anemia. An increase in muscle tone and flexibility will occur, alleviating leg cramps and muscle spasms.
Massage during pregnancy is also a great way to relieve everyday tension and the general aches and pains your body is suffering. It stimulates your lymphatic system, increasing immunity and the removal of excess toxins, while also stabilizing hormonal levels and balancing the glandular system.
When receiving pregnancy massage you are positioned on your side and your body will be supported with pillows.
Thai prenatal and postpartum massage utilizes hot herbal compresses to gently and deeply relax, balance and cleanse the mother's body during pregnancy and after the delivery of the baby. The use of hot herbal compresses allows the energy meridians throughout the body to be stimulated without the necessity of deep acupressure and compression found in standard Thai massage. The heat of the compresses penetrates deeply and gently, while the herbs provide a wide range of therapeutic benefits.
Women with normal, low-risk pregnancies can benefit greatly from massage. However, women in high-risk pregnancies should consult with their doctor or midwife before beginning a massage therapy program. If at any time during the massage you experience discomfort, tell your therapist immediately.
Massage for baby? Of course, click here for more information.
Pricing:
60-minute session $65
Ask about pre-paid multiple session discounts.
Gift certificates available.
For more information or to schedule a session contact Michelle at
michelle@healandrelax.com or 360-263-1306.
For Appointment Days & Hours:
click here