Raindrop Technique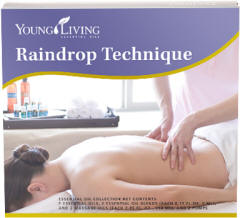 Raindrop Technique originated in the 1980s from the research of D. Gary Young
working with a Lakota medicine man named Wallace Black Elk. Raindrop Technique is
a powerful, non-invasive tool integrating the art of aromatherapy with the technique of
Vitaflex in the application of 100% pure therapeutic grade essential oils to various
areas of the body.
The purpose of Raindrop Technique is to stimulate every organ, muscle, and bone at
the cellular level through the oils, boosting the various body systems, bringing the
body into structural and electrical balance, and enabling the release of toxins wherever
they may be lodged - including those illnesses lodged in the mind and emotions.
During your Raindrop session, a sequence of highly antimicrobial essential oils
designed to simultaneously reduce inflammation and kill the viral agents that cause
spinal misalignments and pain are applied to the feet and dropped onto the back like
little drops of rain. A Raindrop session lasts an hour and for the vast majority of
clients their experience is a pleasant sense of improved well-being, relaxation and, in
some cases, chronic ailments have fallen away immediately or have disappeared soon
after the session. Other sequences of oils can be used to balance the emotions.
Pricing:
One session $75
add 30 minutes of massage for just $20
Ask about pre-paid multiple session discounts.
Gift certificates available.
For more information or to schedule a session contact Michelle at
michelle@healandrelax.com or 360-263-1306.
For Appointment Days & Hours:
click here